OVERVIEW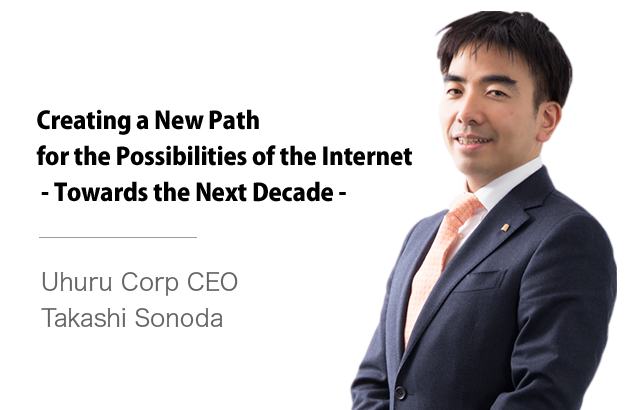 Creating a New Path for the Possibilities of the Internet – Towards the Next Decade –
Uhuru has celebrated our 11th anniversary in business as of February 10, 2017. I would like to extend my heartfelt appreciation to our customers, business partners, and people concerned for all the support you have offered us during this period. I believe that the reason we could make it this far is because we have been continuing our effort, together with all of you, in seeking "the journey to pursue the possibilities of the Internet", which is to create the future with proven technology and free imagination.
"Kama unataka kwenda haraka, nenda mwenyewe. Kama unataka kwenda bali, nenda pamoja."
("If you want to go fast, go alone. If you want to go far, go together.")
This is one of my favorite sayings in Kiswahili. It means that if you want to do something big, you cannot do it singlehandedly. This saying reminds me that if I wish to achieve goals as huge in scale as "creating the future with technology and free imagination" or "contributing to society", companions who share the same ambition are indispensable. For further growth, Uhuru aims to become not only a leading company in IoT but also a company that goes far beyond IoT, AI, and cloud. In order to achieve that aim, I am determined that it is my role and mission to have as many partners get together, and to create an environment that allows such partners to continue their endeavors. Uhuru prides having numerous unique teams in various areas of expertise. There are teams that try to commence efforts in new realms, a team that maintains and solidifies Uhuru's legacies, teams that assist such efforts, and the management team. Each of us will carry out our own responsibility definitely by keeping a hard look at what we should be doing at the present and in the future, and we would greatly appreciate your cooperation. We look forward to continuing our journey of endeavors in new realms, together with you.
February 10, 2017 Uhuru Corp CEO

Takashi Sonoda
OUTLINE
Company name

Uhuru Corporation
Establishment

February 2006
Tokyo Office
Osaka Office
Sendai Office
Management Team

CEO:Takashi Sonoda
EVP, COO:Shukichi Kuwata
Director:Takao Kobori
Director, CSO:Masamichi Tanaka
Director, CFO:Hiroki Uchida
Director, Audit & Supervisory Committee Member :Hirokazu Kizawa
Director, Audit & Supervisory Committee Member :Masatake Yone
Director, Audit & Supervisory Committee Member :Tomoaki Abe
Director, Audit & Supervisory Committee Member :Tadaaki Kimura
Capital

¥334,500,000 (As of June 2017)
Business Areas

Cloud Consulting・Cloud Integration・Cloud Development・Cloud Services
Main Customers

salesforce.com inc. (Unique Investor in Japan)
Google Japan Inc.
Amazon Web Services, Inc.
Microsoft Co., Ltd.
Sony Corporation
Zurich Life Insurance Company Ltd.
Mitsubishi Heavy Industries, Ltd.
Mitsubishi Hitachi Power Systems , Ltd.
Ministry of Foreign Affairs, MOFA
Organization for Small & Medium Enterprises and Regional Innovation, JAPAN.
Dentsu Inc.
All Nippon Airways CO., Ltd.
Daiichi Sankyo Co., Ltd.
Memberships

The Tokyo Chamber of Commerce and Industry
Vitalizing Local Economy Organization by Open Data & Big Data (VLED)
IoT Acceleration Consortium
Contact us