Using Technology and Outside the Box
Thinking to Create a Sustainable Society
By connecting existing things – products and services – Uhuru delivers new value. To Uhuru's way of thinking, a sustainable society is one in which supply and demand is in balance for everything – goods and services, human capital. We aspire to bring such society to reality together with various stakeholders.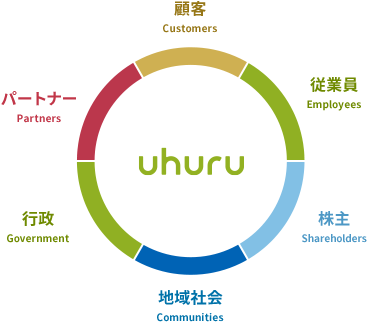 A Common Basis of Value
To execute this philosophy, our employees prize the company's common basis of value.
Savor our differences

By respecting values different to one's own, and savoring the combination of those diverse values, we grow as individuals and collectively with our surroundings.

Break out of
your comfort zone

Not confined by industry or one's own knowledge, experience or field, go on to create a new, better you.

Spring into action

Take the initiative to move at the speed of the modern world. We value the entrepreneurial spirit over endless discussions.