Announcement of enebular® Enterprise Plan; IoT infrastructure system that accelerates digital transformation
Comprehensive support for commercializing IoT products that gets smarter
Uhuru Corporation ("Uhuru", Headquarters: Minato-ku, Tokyo, President & CEO: Takashi Sonoda) has announced the Enterprise Plan of its IoT orchestration service, enebular. By combining enebular with Uhuru's track in consulting and integration services, the Enterprise Plan offers comprehensive service from product planning up to operation optimization to businesses seeking commercialization of IoT products. We will start providing the service in January 2018.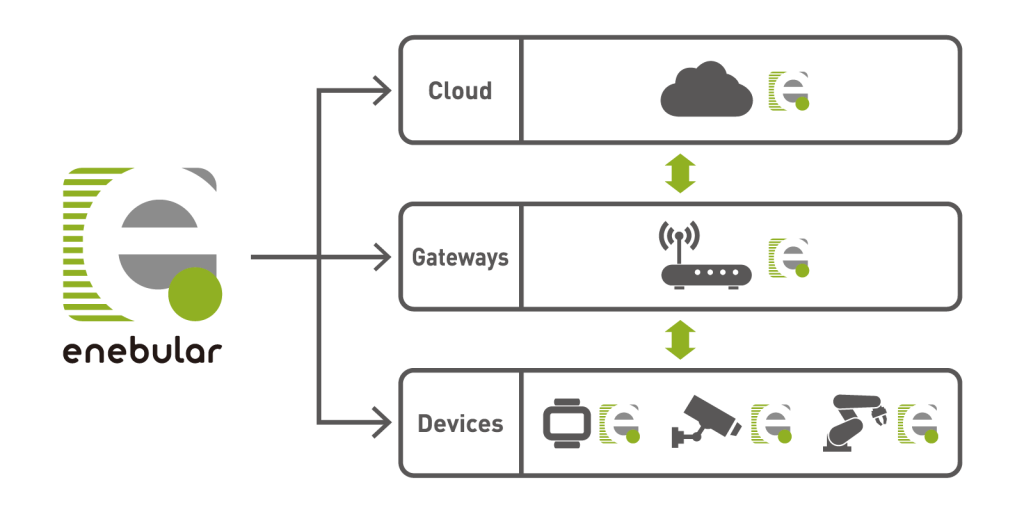 enebular is an IoT orchestration service that supports development and operation of IoT products and services. It offers easier utilization of data generated by the huge number of devices using AI and visualization and continues to make products and services growingly intelligent. It enables construction of collaborative distribution systems by making edge devices intelligent and optimizing them based on machine learning, The system is designed to achieve speedy response, reduction of network traffic and storage volume, and high security.
Uhuru released enebular in 2014 as a cloud integration service based on our knowhow obtained in the front line of system development. Since then we have accumulated a record of integration cases in various fields. We moved forward to focus on IoT and reinforced our team with members specializing in semiconductors and cloud services. In May 2017, we entered into agreement with Arm Ltd. as enterprise licensee of Arm® Mbed™ Cloud. The license enables Uhuru to expand the integration domain of enebular to the edge and to develop edge devices and cloud services in a unified environment (Unified Development).
Using enebular, which simplifies data connection in a wide variety of cases, makes IoT system implementation and deployment of new products and services possible in a short period of time. In addition to providing enebular, Uhuru will enhance alliance with solution and sales partners to reinforce our ecosystem aiming to offer added value to customers in the IoT realm. As of today, we are offering various solutions that bring new customer value to reality with partners including Murata Manufacturing Co., Ltd., NEC Corporation and Ryoyo Electro Corporation.
* Please refer to the description below regarding implementation of enebular on NAONA provided by Murata Manufacturing Co., Ltd.
Usage fee of enebular includes installation license fee, monthly basic charge (fixed) and subscription fee and varies according to the number of devices to be managed and the kinds of assets to be used. The free version will continue to be provided, not including the device management feature, which would be mandatory for commercialization.
The structure and characteristics of enebular
The components of enebular are Development, Operation and Assets. By connecting edge devices and the cloud, enebular allows design of data flow within the entire system and supports system operation.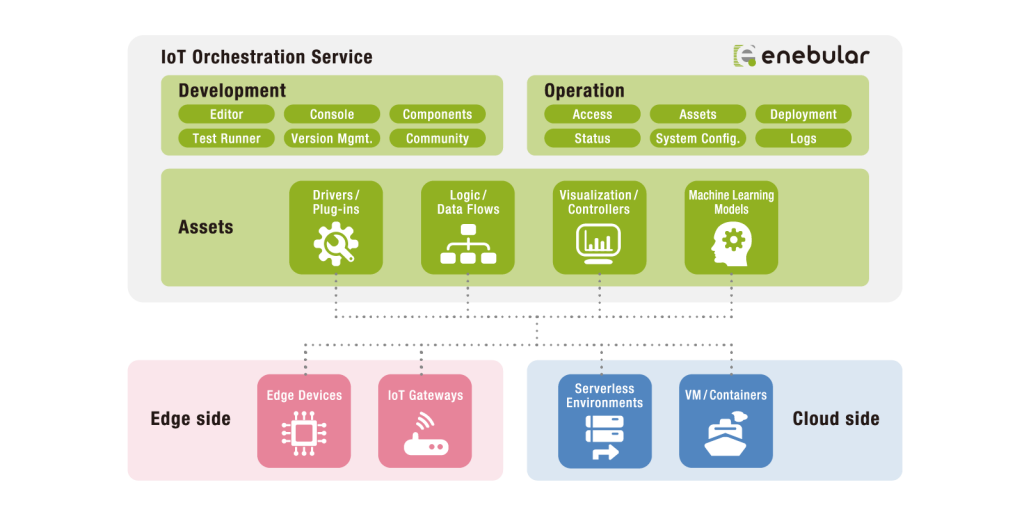 Development
Utilize open source assets such as Node-RED
Unified Development from edge to cloud
Non-programming development enabled by logic / data-flow-based design
Compatible with Arm Mbed technology. Development of devices that continue to grow smarter is possible
Easy visualization of time series data by INFOMOTION
Operation
Open integration policy that makes enebular compatible with various IoT platforms
Scalability offered by remote deployment to devices and status monitoring
Comprehensive security measures that blankets edge devices and cloud
Assets
Data conversion and processing enabled by Node-RED data flow
Appropriate usage of data enabled by INFOMOTION
AI model, Node-RED flow which sends data to the model
We have received endorsement comments from our partners with regard to the announcement of the enebular Enterprise Plan.
Murata Manufacturing Co., Ltd.
We would like to extend our heartfelt welcome to the announcement of the enebular Enterprise Plan.
Murata Manufacturing Co., Ltd. have been engaging in the project scheme, system development and PoC of our virtual sensor platform NAONA with support from Uhuru Corporation. We have adopted enebular after determining that it was best suited for NAONA, a cloud platform which requires connection of hardware that senses varied information and combination, interpretation and output of collected data as spatial information. We also appreciate Uhuru's expertise in consulting, as is evident in their strong support for digital transformation of the manufacturing industry. Through close partnership, I hope that both enebular and NAONA continue to prosper.
Yoshitaka Tanino
Manager, IoT Project Promotion Office
Technology / Business Development Division
Murata Manufacturing Co., Ltd.
NEC Corporation
We would like to extend our heartfelt welcome to the announcement of the enebular Enterprise Plan.
Aiming to promote digital transformation of social infrastructure and client companies, I hope expansion of IoT ecosystem and co-creation of innovative and safe solution for society will be brought to reality based on the partnership with Uhuru, known for its track record in cloud integration.
Naoki Hashitani
Executive Director, NEC Corporation
Ryoyo Electro Corporation
We would like to extend our heartfelt welcome to the announcement of the enebular Enterprise Plan.
As an IoT solution trading company dealing in ICT / solution business in addition to semiconductor and device business, Ryoyo Electro is devoted to business innovation focusing on IoT. In collaboration with Uhuru with their enebular IoT Orchestration Service and consulting services, I hope that offerings of new customer value, including wider range of solutions and implementation of recurring models, will be accelerated.
Shigeharu Hanazaki
Senior Executive Officer, IoT Sales Division
Ryoyo Electro Corporation
Arm Ltd.
We would like to extend our heartfelt welcome to the announcement of the enebular Enterprise Plan.
For the growth of the IoT market, Arm aims to focus on infrastructure including connectivity and security. We will provide applications for utilizing data and consulting services through collaboration with our ecosystem alliance partners. In May 2017, we entered into agreement with Uhuru, where experts in Arm Mbed technology are doing a great job, as Mbed Cloud enterprise licensee. Based on this agreement, I hope that Japan-unique solutions based on Mbed technology would be provided globally and would support numerous customers with their business.
Yuzuru Utsumi
President, Arm Ltd.
About Murata Manufacturing Co., Ltd.
Murata Manufacturing is the world's leading general electronics parts manufacturer developing, producing and selling electronic parts, mainly made of ceramics. Murata Manufacturing continues to contribute to the electronics industry by developing original materials and processes, designing products and possessing unique manufacturing technologies including software for analysis and evaluation.
http://www.murata.com/
About NEC Corporation
Based on the brand message promoting social solution business "Orchestrating a brighter world", NEC Corporation aims to propose solutions for future megatrends and creation of social value.
http://jpn.nec.com/
About Ryoyo Electro Corporation
As an electronics trading company dealing in ICT / solution business in addition to semiconductor and device business, Ryoyo Electro focuses on IoT business taking advantage of Ryoyo's forte in both fields. In collaboration with its suppliers Mitsubishi Electric, Renesas Electronics, Intel, HP, Microsoft, NVIDIA, etc., the company has established a service-oriented business model offering overall support from semiconductor devices, network, cloud / servers, and operation / maintenance aiming to assist enterprises in various industries with business innovation through IoT implementation.
http://www.ryoyo.co.jp/
About Arm Ltd.
Positioned in the center of revolution in computing and connectivity, Arm technology brings innovation to people's life and corporate management. Arm's processors with the energy-efficient and highly-sophisticated design are bringing intelligence through more than 100 billion silicon chips and provide secure support to numerous products including various sensors, smartphones and supercomputers. In alliance with more than 1,000 technology partners including the world's largest business and consumer brands, Arm continues to lead innovation in computing by chips, networks and cloud.
https://www.arm.com/
* All names of companies, products and services are trademarks or registered trademarks of Uhuru Corporation or the respective companies and organizations.
About Uhuru
Uhuru Corporation aspires to increase enterprise value at our clients using innovative products and services inspired by the internet under the corporate philosophy of "using technology and free thinking to create the future". Our team consists of experts in various fields including consulting, engineering and creatives. We offer one-stop professional service from business strategy, technological support, to communication strategy necessary for implementing IoT business and aim to create business with the customers.
Reference 1: NAONA (Murata Manufacturing Co., Ltd.)
"NAONA", a virtual sensor platform provided by Murata Manufacturing, is a cloud platform that senses information that previously could not be digitalized, such as the excitement in the atmosphere or intimacy between people, as spatial information and offers them in visualized form.
In previous IoT systems, design and development had to be done each time according to the application. NAONA categorizes data collected from various sensors into two layers, the objective engine and the subjective engine to allow speedy IoT development.
The objective and subjective engines are supported by enebular.
By using enebular, the way to utilize data from sensors can be designed by combining nodes and flows. The process of measuring "the atmosphere of the place" can be visualized based on a certain amount of data and can be stored as knowledge.
enebular also makes it possible to place the objective engine freely at the cloud, gateways or the edge. This method allows flexible and optimal structuring of the overall system including reduced communication costs, improved performance, stronger security, and protection of privacy.
Reference 2: New emblem for enebular
New product logo

New emblem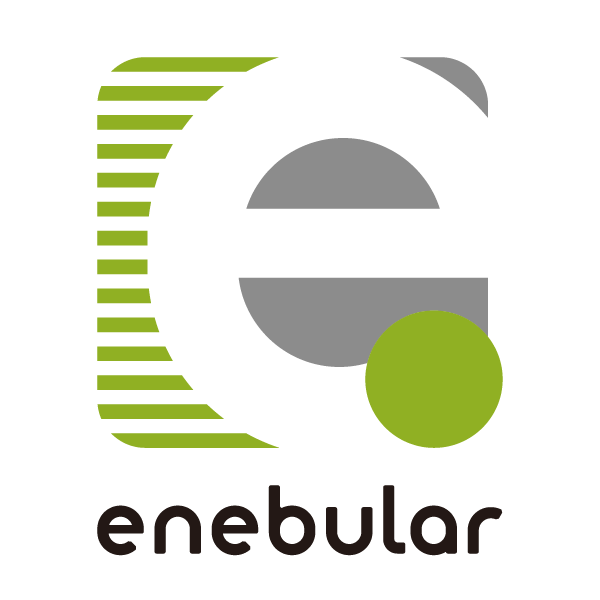 The 14 green lines represent all kinds of data generated on earth, with its seven seas and seven continents. The circle represents the moon and the sun, origin of all energy.
Data gets interconnected by enebular, passes through people and things (objects), and creates new values and cultures in the course of being utilized.
It ultimately becomes the power to encourage innovation of people and society beyond the conventional framework.