Uhuru commences operation of IoT Working System in collaboration with NEC Solution Innovators aiming work style reform
First implementation case of Arm® Mbed™ Cloud in Japan
In collaborative effort with NEC Solution Innovators, Ltd (Headquarters: Koto-ku, Tokyo, President: Kiyoshi Sugiyama), Uhuru Corporation ("Uhuru", Headquarters: Minato-ku, Tokyo, President & CEO: Takashi Sonoda) has constructed a system that promotes work style reform, using Uhuru's enebular® IoT Orchestration Service. The system has been built utilizing Mbed Cloud (*1), provided by Arm Ltd. ("Arm", Headquarters: Cambridge, England, Japan Office: Kohoku-ku, Yokohama-shi) based on the enterprise licensee agreement Arm and Uhuru has entered into in May 2017, and is the first case of Arm Mbed implementation in Japan.
The development plan has been formulated after entering into licensee agreement with Arm in May 2017 and operation of the first case has commenced in October at Shirahama City, Wakayama Prefecture.
Background of development
In order to bring to reality "Work Style Reform" advocated by the Japanese government, systems that allow people to work at any location at any time, e.g. mobile work, satellite offices and working from home, are becoming the topic of focus. Telework is also attracting attention as a means of vitalizing local economy. To make maximum use of knowledge and knowhow being possessed by the diverse workforce, it is essential for enterprises to take initiatives in work style reform, employee engagement, diversity management and corporate health.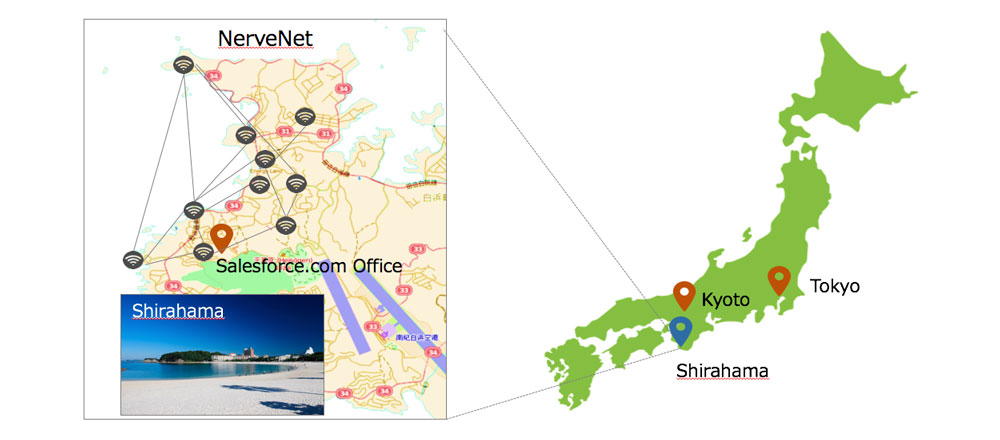 Safety confirmation in emergency situations
Presence confirmation (of employees in the office and at remote locations)
Correspond to flexible working styles at remote locations
The IoT Working System utilizes NerveNet* developed by the National Institute of Information and Communications Technology (NICT).
Outline of NerveNet
NerveNet is a distributed network and application using wireless multihop technology. Its functionality allows base stations to interconnect automatically so that when communication failure occurs on a particular route in times of disaster, connectivity would still be secured by immediately switching to another route.
All of the base stations have the function to store and synchronize data. If communication failure occurs, information can be obtained from other base stations where connection is active. At normal times, NerveNet can be used by municipalities and NPOs as a tool for regional development by delivering information and services required by the region and its residents, or as a temporary network at event sites.
Shirahama City, Wakayama Prefecture, where the IoT Working System is being deployed has been working vigorously on Workation, one of the methods of work style reform. With its abundant tourism assets, the city has attracted several companies based in Tokyo to set up telework bases there. We decided that Shirahama City would be an ideal location for setting up IoT telework bases for Workation by utilizing the solidly secure NerveNet, along with sensors, etc. Through the system deployment, we aim to conduct verification of a working environment that is stress-free for both the employees and the employers. Such an environment should certainly contribute to work style reform.
Outline of IoT Working System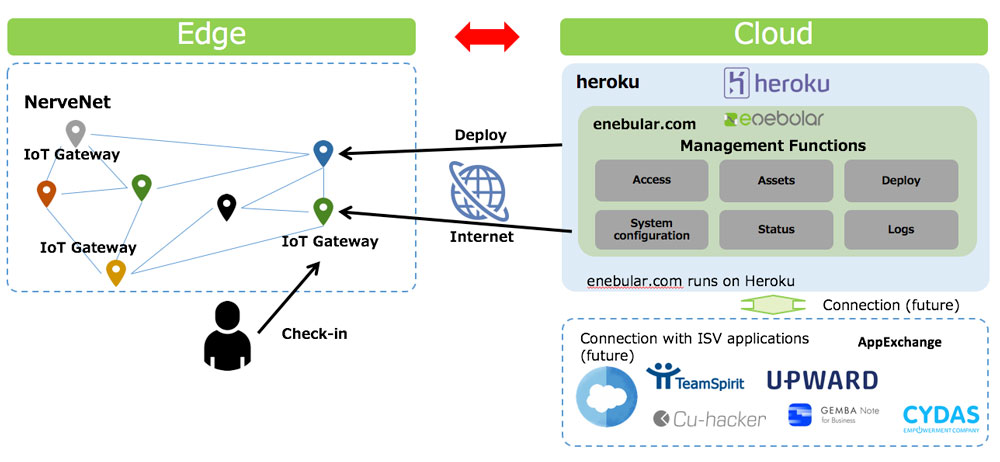 Feature
Locating people's whereabouts through communication between mobile devices provided to individuals and NerveNet base stations
Merit
Achieving ideal work-life balance by encouraging workers to use their judgment and autonomy
Environment
NerveNet (IoT Gateway (edge))
Heroku (cloud)
enebular (*2)
*1 About Arm Mbed Cloud
Arm Mbed Cloud is a cloud service that provides secure and scalable IoT device management on Arm's IoT device platform, Mbed. Specifically, it securely connects the huge number of IoT devices operating on to a large-scale IoT application, offering services that allow secure provisioning of IoT devices and firmware updates from the cloud as well. Arm Mbed operates in accordance with open standard and users can combine it with various devices, networks and cloud services. By making use of Mbed Cloud users can focus on developing their original applications.
*2 About enebular
enebular is an IoT orchestration service provided by Uhuru.
It simplifies development of applications that connect edge devices and the cloud, and linkage with various cloud services, offering optimal operation of IoT systems in which numerous devices work in collaboration. Its features also include security and scalability apt for commercial deployment. Since its release in 2014 enebular has been adopted by various enterprises tackling digital transformation utilizing IoT / AI. Uhuru has entered into agreement with Arm Ltd. in May 2017 as enterprise licensee of Arm Mbed Cloud, Arm's IoT device management platform. Based on this agreement we are now able to conduct development with focus on security of cloud, edge devices, end devices and most importantly at the hardware level.
NEC Solution Innovators has been in charge of planning and management of the IoT Working System project, as well as the proposal to Shirahama City, Wakayama Prefecture. As for system development, Uhuru, NEC Solution Innovators, Hirakawa Hewtech Corp. and Nashua have jointly worked on fortifying the NerveNet environment and deployment in the Shirahama City environment.
NEC Solution Innovators has given an endorsement comment as follows.
It is a pleasure for NEC Solution Innovators to have the opportunity to contribute to the vitalization of local economy at Shirahama City through planning and development of the IoT Working System, the first implementation case of Arm Mbed Cloud in Japan. We plan to make further efforts on this project in collaboration with Uhuru.
Shinji Nakamura
Executive Managing Director, NEC Solution Innovators, Ltd
About Uhuru
Uhuru Corporation aspires to increase enterprise value at our clients using innovative products and services inspired by the internet under the corporate philosophy of "using technology and free thinking to create the future". Our team consists of experts in various fields including consulting, engineering and creatives. We offer one-stop professional service from business strategy, technological support, to communication strategy necessary for implementing IoT business and aim to create business with the customers.