Uhuru and Afero Agree to Embark on Joint Development Project, Aiming to Provide Integrated Service
Materializing a Unified Vision
Uhuru Corporation ("Uhuru", Headquarters: Minato-ku, Tokyo, President and CEO: Takashi Sonoda) and Afero ("Afero", Headquarters: California, U.S.A., CEO and Co-Founder: Joe Britt), provider of the Afero Platform™ which offers high-level connectivity and security to Internet of Things (IoT), have agreed to commence a joint development project to integrate services provided by both companies.
Uhuru and Afero had entered into business partnership in December 2016 for development of IoT products, as well as for consulting services for the development of business utilizing IoT.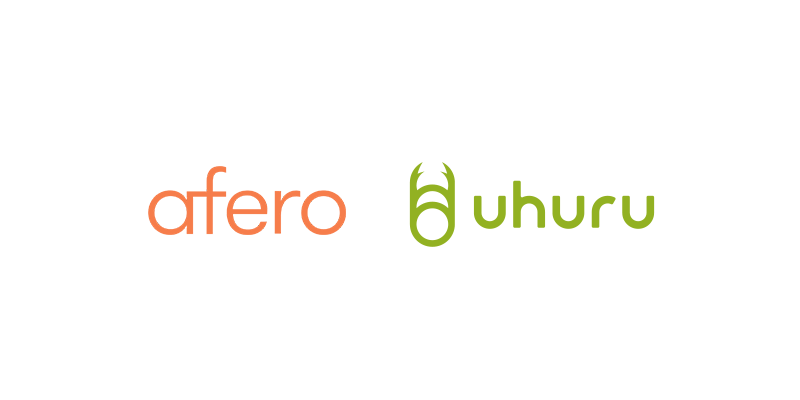 Goals of the Joint Development Project
By combining Afero's capability to secure end-to-end connectivity and enebular®'s features which support data processing and AI on a wide variety of devices, We aim to materialize our unified vision, which is to "Make IoT development easy for everyone".
1. Uhuru and Afero support the Platform Security Architecture (PSA)*, a common framework for the development of connected devices with solid security. 
* A new system architecture that enables development of connected devices with solid security. Released by Arm Limited, UK, in October, 2017.
We plan to start offering the jointly developed service within 2018.
Afero
Afero, provider of cloud services for IoT, has been co-founded by Joe Britt, a former executive of Google and leader of the development team of Android, and Shinichiro Matsumura in 2014. Afero develops and offers highly-advanced service infrastructure with strong security and reliable connectivity to networks.
Afero's turnkey architecture incorporates cloud services, application development tools and a secure Bluetooth® Low Energy (BLE) module to help companies and developers with quick system implementation. Afero makes IoT development frictionless and enables taking security measures, the most critical factor of IoT, with minimum alteration of existing devices.
Afero's goal is to make development of IoT devices easy for everyone.
URL: https://www.afero.io/
enebular
"enebular" is an IoT orchestration service offered by Uhuru. It makes development of applications that connect edge devices and the cloud and integration with various cloud services easier and supports optimal operation of IoT systems in which a large number of devices work in collaboration. It has security and scalability features that meet the requirements for commercial deployment. Since its release in 2014, enebular has been adopted by numerous enterprises aiming to achieve digital transformation utilizing IoT/AI. In May 2017, Uhuru has entered into an agreement with Arm Ltd. ("Arm", Headquarters: Cambridge, UK) as an enterprise licensee of Arm's IoT device platform, Arm® Mbed™ Cloud. The agreement has made it possible for Uhuru to work on development with solid security for the cloud, edge devices and end devices, with special focus on hardware security.
Uhuru Corporation
Uhuru Corporation aspires to increase enterprise value at our clients using innovative products and services inspired by the internet under the corporate philosophy of "using technology and free thinking to create the future". Our team consists of experts in various fields including consulting, engineering and creatives. We offer one-stop professional service from business strategy, technological support, to communication strategy necessary for implementing IoT business and aim to create business with the customers. We are also working on new kinds of next-generation telecommunication technologies such as NB-IoT to meet the requirements of the 5G era.
URL: http://uhuru.co.jp/