Uhuru to Run a Booth at RETAILTECH JAPAN2018
Solution Approach to Enhance Customer Experience in Stores
Uhuru Corporation ("Uhuru", Headquarters: Minato-ku, Tokyo, President & CEO: Takashi Sonoda) will be running a booth at RETAILTECH JAPAN 2018 to be held from March 6 (Tue) to March 9 (Fri) at Tokyo Big Sight.
RETAILTECH JAPAN is Japan's largest trade show specializing in retail information system. The exhibits are classified into zones based on categories of solutions such as in-store systems, supply chain coordination, etc. Uhuru will set up booth with our solution at the Total Retail Information Systems area.
Outline of Event
Name
The 34th Comprehensive Exhibit of Retail Information Systems
RETAILTECH JAPAN 2018
Booth No. RT1408
Dates & Time
March 6 (Tue) – 9 (Fri)
10:00 am – 5:00 pm (will close on 4:30 pm on the last day)
Venue
Halls East 1, 2, 3, Tokyo Big Sight
Admittance
Free (prior registration required)
(Registration)
Organizer
Nikkei Inc.
* Uhuru will run a joint exhibit of our solution with Arm Limited at the booth of Microsoft Japan Co., Ltd. (booth No. RT1408).
Overview of Exhibit
Name of solution: Smart Stores Solution
Theme of exhibit: Collect data of in-store customer behavior, analyze, and utilize the result to enhance customer experience
Find out which item the customer showed interest in, at which store, and when
Use the store visit history data for remarketing
Detect inventory shortage and notify the store staff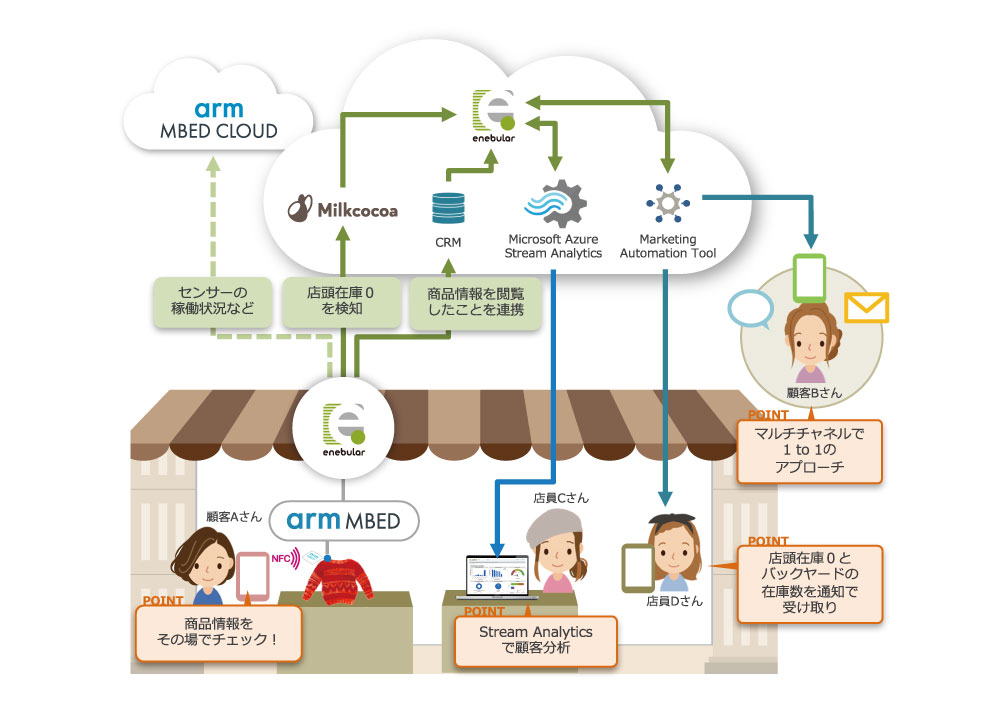 Collecting and processing sensor data will be done using Arm® Mbed™ and will be connected to various cloud services with enebular®. This not only enhances the range of data utilization on the edge side, but also allows repair and extension of edge devices to be done directly from the cloud.
*All names of companies, products and services in this news release are trademarks or registered trademarks of Uhuru or the respective companies or organizations.
enebular
enebular" is an IoT orchestration service offered by Uhuru. It makes development of applications that connect edge devices and the cloud and integration with various cloud services easier and supports optimal operation of IoT systems in which a large number of devices work in collaboration. It has security and scalability features that meet the requirements for commercial deployment. Since its release in 2014, enebular has been adopted by numerous enterprises aiming to achieve digital transformation utilizing IoT/AI. In May 2017, Uhuru has entered into an agreement with Arm Ltd. ("Arm", Headquarters: Cambridge, UK) as an enterprise licensee of Arm's IoT device platform, Arm® Mbed™ Cloud. The agreement has made it possible for Uhuru to work on development with solid security for the cloud, edge devices and end devices, with special focus on hardware security.
Uhuru Corporation
Uhuru Corporation aspires to increase enterprise value at our clients using innovative products and services inspired by the internet under the corporate philosophy of "using technology and free thinking to create the future". The core of our business is IoT. We continue to bring innovation to our customers' business in the IoT realm, with the leverage of enebular® IoT Orchestration Service, which connects the edge and the cloud. We are also working on new kinds of next-generation telecommunication technologies such as NB-IoT to meet the requirements of the 5G era. Our team consists of experts in various fields including consulting, engineering and creative production. We offer one-stop professional service from business strategy, technological support, to communication strategy necessary for implementing IoT business and aim to create business with the customers.