Ignition Dashboard: Real-time Data Sharing Platform Enabling Direct Connection Between Manufacturing Sites and Management Decision-making, Jointly Developed by Uhuru and AeroEdge
Merging intelligence and sensitivity to ignite improvement at manufacturing sites and management decision-making through a data-driven method based on IoT
Uhuru Corporation ("Uhuru", headquarters: Minato-ku, Tokyo, President & CEO: Takashi Sonoda) and AeroEdge Co.,Ltd ("AeroEdge", headquarters: Ashikaga, Tochigi, President & CEO: Jun Morinishi) have jointly developed Ignition Dashboard, a real-time data sharing platform that directly connects manufacturing sites and decision-making by the management.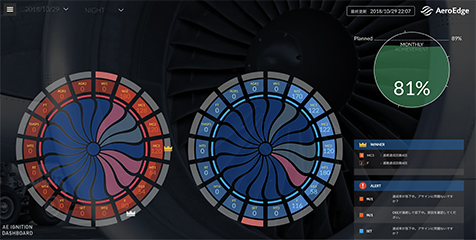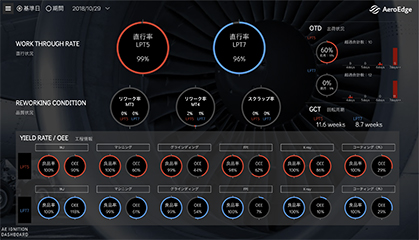 Ignition Dashbord screen images
It is mostly common in the manufacturing industry to manage and utilize production status data on premise*1, i.e. individually at each of the operation sites or separately by production process. The newly developed platform centralizes collection of data within the factory, manages and makes the data available for sharing in the cloud, eliminating physical and time restrictions. Having the operation sites and management utilize the same data in real time allows for speedier decision making and execution of improvement measures, as well as generation of new ideas. Also, by making use of Uhuru's expertise in UX*2, collected data can not only be visualized automatically, but also can be customized as a UI*3 that meets the unique requirement of the manufacturing site. Uhuru and AeroEdge have come up with a design that would inspire voluntary and intuitive actions by anyone who needs to use the data.
The Feature of the Ignition Dashboard
The foremost feature of the Ignition Dashboard is that by applying data collected and shared in the cloud to a uniquely-designed UI, the fusion of intelligence and sensitivity ignites data-driven site improvement and management decision. Regardless of time and location, all parties involved can communicate based on facts related to the site provided in real time, allowing speedier improvement and management.
Future Perspective
Ignition Dashboard is already installed and is in operation at AeroEdge's plant, allowing both management and the site to grasp production status in real time. Future plan is to install various sensors and communication equipment in the plant, increase volume and quality of data collected through IoT and aim for further evolution of the data platform. Based on this joint development, Uhuru and AeroEdge also plan to advance into the global market with a product that offers enhancement of the manufacturing environment.
Demo Exhibit of the Ignition Dashboard
Demo exhibit of the Ignition Dashboard can be seen at The 29th Japan International Machine Tool Fair (JIMTOF 2018) from November 1 (Thu) to November 6 (Tue) at Tokyo Big Sight. AeroEdge's booth is set up at East 7, 7070.
JIMTOF 2018
| | |
| --- | --- |
| Dates | November 1 (Thu) – November 6 (Tue) |
| Time | 9:00 am – 5:00 pm |
| Venue | Tokyo Big Sight |
| Exhibit | booth East 7, 7070 |
*1 "On-premise" refers to the form of operation with information systems (software, servers, etc.) installed within facilities managed by the individual companies.
*2 UX stands for User Experience, i.e. users' experience gained by using products and services.
*3 UI stands for User Interface, i.e. the comfortably displayed design, fonts, menu, etc. on the screen that users encounter when operating devices or computers.
*All names of companies, products and services mentioned in this release are trademarks or registered trademarks of Uhuru or the respective companies and organizations.
About Uhuru Corporation
Uhuru provides products and services focusing on IoT business based on our corporate philosophy, "Creating the future with technology and free thinking". Our proprietary IoT Orchestration Service, enebular®, allows unified management of edge devices and the cloud. We are also working on next-generation telecommunications technology including NB-IoT in preparation for the upcoming era of 5G. Our teams of experts in consulting, engineering and creative production strive to create business at our clients by offer one-stop access to professional services in business strategy, technological support and communication strategy.
About AeroEdge Co.,Ltd
AeroEdge aims to be the one and only player in the "new tier" of global aerospace industry.
We were founded in 2016 and located in Ashikaga, Tochigi Prefecture, to perform mass production of aircraft engine parts in accordance with the long-term agreement with a French aerospace giant, Safran Aircraft Engines, which manufactures the next generation aircraft engine "LEAP".
We're striving to respond promptly to any need of manufacturing solution and any change of business environment in order to keep our technical and competitive edges.
AeroEdge is trying to maximize autonomy and creativity working with enthusiasm toward innovative achievement that have never been done before so that we creates new value in the world and contributes to happiness of the people for the realization of our mission statement "create one from zero".
*LEAP is trademark of CFM International, a 50/50 joint company between GE and Safran Aircraft Engines.