PoC of Utilizing IoT for Visualizing the Excitement of Watching Sports Games and the Audience's Engagement
Uhuru Corporation ("Uhuru", headquarters: Minato-ku, Tokyo, President & CEO: Takashi Sonoda) has conducted PoC of utilizing IoT for visualizing the excitement of watching sports games and the audience's engagement in joint effort with NTT DATA INSTITUTE OF MANAGEMENT CONSULTING, Inc. ("NTT DATA INSTITUTE OF MANAGEMENT CONSULTING", headquarters: Chiyoda-ku, Tokyo, President & CEO: Yuji Kawashima) and Uebayashi Research Group of Otemon Gakuin University (President: Toshiaki Kawahara) as part of the activities by Sports-Tech & Business Lab ("STBL"), a consortium for sports business emergence through utilization of technology.
From now on, we will work not only on improving the precision of PoC by obtaining a wider variety of data and analyzing the correlation between objective and subjective data but commercialization of the stadium solution.
Background and purpose
The government aims to expand the sports business into a 15 trillion-yen market. The center of the "stadium/arena reform" debate is to turn them into profit centers instead of cost centers. Those purposes in view, it is essential to transform sports game-watching itself and create experiences that make audiences enjoy watching and become to like the teams more, feel willing to spend more on sports game-watching and come to the stadiums more often.
The way to grasp how much the audiences are enjoying, feeling engagement toward the teams, feeling enthusiastic and looking forward to coming back again has been limited. Many researches have been conducted through dialogue or questionnaires based on applied science approach, but it had been pointed out that the relevance and reliability of subjective data, which gets highly affected by psychological excitement, had their limits.
Given such background, STBL set up a working group for "Visualizing Excitement and the Fans' Engagement" and maintained discussions with experts and related corporations to come up with a method to quantify the audiences' levels of concentration, enthusiasm and satisfaction. As a first effort to materialize the result of the study, Uebayashi Research Group of Otemon Gakuin University Sports Culture Course, Uhuru and NTT DATA INSTITUTE OF MANAGEMENT CONSULTING have conducted a PoC project for quantifying the excitement and engagement of sports game watchers.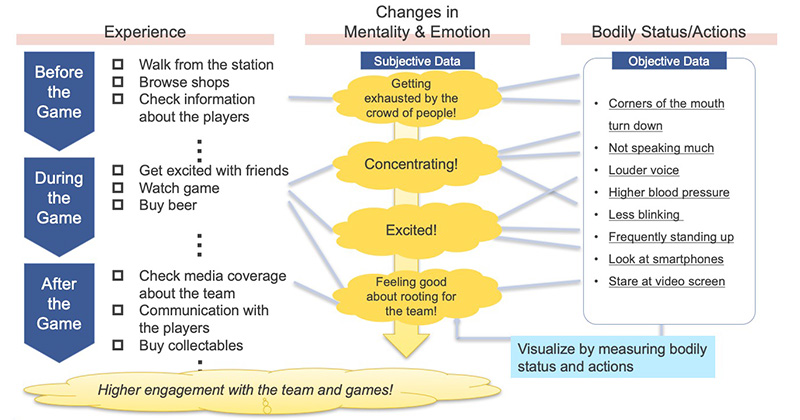 Outline of PoC
Venue: Arena Tachikawa Tachihi
Period: From October 2018
Game: Home game of the professional basketball team Alvark Tokyo (B. LEAGUE)
* Support for installing sensors and survey has been provided by Toyota Alvark Tokyo Co., Ltd.
Method of survey: Installed environment survey sensors in arena seats and collected the audiences' reaction data during the game including time-outs.
Result
First successful survey in the industry of the status of sports game watchers in a sports arena environment and at an actual professional sports game using IoT sensors. By collecting and analyzing the audiences' voice data by seat area we have quantified the difference of the environment the game watchers were in. We are also analyzing the correlation between the change in game-watching environment and how the game is proceeding by matching the data with the video of the game. The result will be the first step to transform stadiums/arenas into more attractive venues by staging exciting game scenes.
Future approach
The PoC project made analysis of the audiences' status by seat area and verification of engagement possible. As a future approach, we plan to install numerous kinds of sensors to collect various data such as brainwaves, expressions, posture and motions. We will also improve the precision of the PoC by studying the correlation between objective data collected by sensors and subjective data based on interviews and questionnaire.
The purpose of STBL's activities is the emergence of business through collaboration by industry/government/academia. Thus, the project will not end as a mere study or verification but will be pursued for commercialization as a stadium solution that would be applied to the live entertainment business as a whole including sports games. STBL continues to seek partners willing to support the effort by providing venue, technology and funding.
About STBL
STBL is a sports business consortium based on industry/government/academia collaboration, working on fusion of knowledge and business development with the purpose of creating next-generation sports business of the digitalization era and establishment of sports business ecosystem in cooperation with regions and different industries.
Since its founding in March 2018, more than 50 companies and organizations have become members, sharing assets and striving to start up projects taking advantage of their technologies.
Consortium for the emergence of sports business through utilization of technology Sports-Tech & Business Lab official website
About NTT DATA INSTITUTE OF MANAGEMENT CONSULTING
Committed to solving social and business issues, the consulting firm provides support to companies in creating new business and formulating growth strategy and to government agencies in formulating industrial strategy. In the domain of sports business, the firm provides "hybrid sports business consulting", to create new added-value by fusing technology, collaboration with different industries and community development.
Sports business consulting by NTT DATA INSTITUTE OF MANAGEMENT CONSULTING
About Uebayashi Research Group, Sports Culture Course, Otemon Gakuin University
A research group led by Assistant Professor Isao Uebayashi, a leading figure in the field of sports facility planning. Assistant Professor Uebayashi had been involved in the basic and actual design of the Mazda Zoom-Zoom Stadium Hiroshima and has been planning and making proposals for his own stadium/arena establishment projects as a representative of his own sports facility lab. He continues his study on behavior changes of sports game-watchers and correlation between sports and communities through design and planning of stadiums and arenas.
About Uhuru Corporation
The core of Uhuru Corporation's business is IoT. We continue to make innovation happen at the clients using enebular, the IoT Orchestration Service that connects edge devices to the cloud. Uhuru is also involved in projects combining sports and IoT. We promote the use of IoT in stadiums and arenas, and also run a media "THE STADIUM HUB" focusing on IoT at stadiums and arenas.
* Names of companies, products and services contained in this news release are trademarks or registered trademarks of Uhuru or the respective companies and organizations.