Uhuru Collaborates with LayerX in IoT and Blockchain
To attain secure and safe data flow
Uhuru Corporation ("Uhuru", headquarters: Minato-ku, Tokyo, President & CEO: Takashi Sonoda) is pleased to announce its collaboration with LayerX Inc. ("LayerX", headquarters: Chuo-ku, Tokyo, CEO: Yoshinori Fukushima) with the aim to attain a society with secure and safe data distribution.



The Japanese government has its sights set on achieving "Society 5.0", whereby economic development and social issues are compatibly addressed simultaneously. In Society 5.0, cyber and physical worlds will merge in various realms such as smart cities and supply chain and IoT devices will autonomously trade massive amounts of diverse data among themselves. As IoT evolves, more data will be traded among devices with AI making judgments and decisions without human intervention.
For the sake of argument, assuming some falsified data flowed between devices, it could end up causing a serious incident. To achieve a society with secure and safe data distribution, it is essential to ensure the trustability of devices which originate that data, as well as to make data tamper-proof using blockchain technology.
Having turned our gaze to such society, Uhuru has been working in joint efforts with sensor and device manufacturers on numerous IoT projects that connect to smart cities and supply chains. Furthermore, Uhuru has acquired IP for ensuring trustability of devices (Japanese patent number 6656446, registered trademark number 6176749, Trusted Device, etc.) that enables continuous audits of sensors and devices from the manufacturing process through software updates.
Meanwhile, in August 2020, LayerX established "LayerX Labs", a research and development body that works on joint studies with government institutions, the Central Bank, academic institutions and private enterprises and has focused on the smart city space. Because confidentiality and anonymity of data is essential in a smart city where data is used jointly by multiple companies and organizations, LayerX has been working on the development of "Anonify"*1, a next-generation privacy protection technology for blockchain, based on TEE (Trusted Execution Environment), a security functionality for CPUs.
Uhuru and LayerX have agreed to collaborate with the aim of attaining a secure and safe data distribution society by making data distribution trustable. By leveraging each company's strength in IoT and blockchain, Uhuru and LayerX will work on creating a data distribution platform to materialize "5-Star Trusted Data" *2, in which five levels of conditions for secure and safe data is defined. In addition, the two companies will engage in activities to establish a consortium focusing on a Trusted Device Network*3, which supports networking and information exchange by people working across sensors and device domains to generate use cases and business.
*Names of companies, products and services are trademarks or registered trademarks of Uhuru or the respective companies
or organizations*1 Anonify is a privacy protection technology for block chain using TEE , based on R&D by LayerX Labs. (See chart below)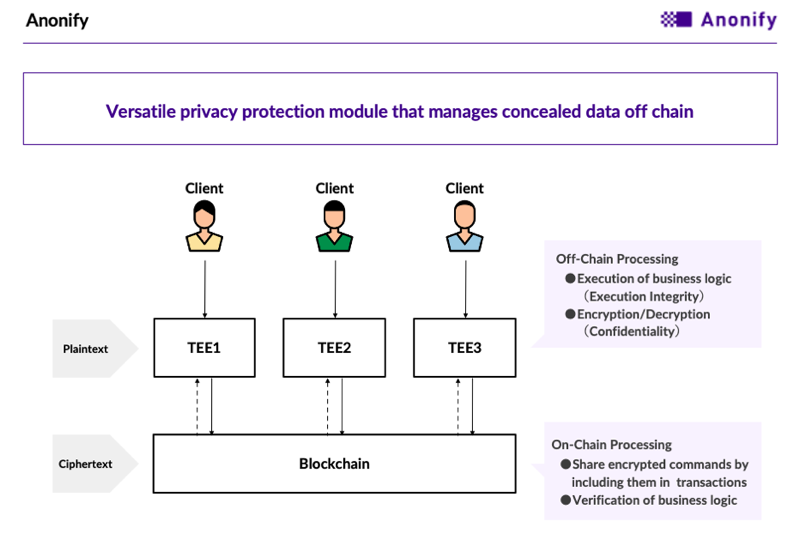 *2 5-Star Trusted Data refers to secure and safe data that meet the 5 levels of conditions for ensuring trustability of data, advocated by Uhuru at UN-CEFACT, et al. (See chart below)
*3 Trust platform necessary for materializing 5-Star Trusted Data/Device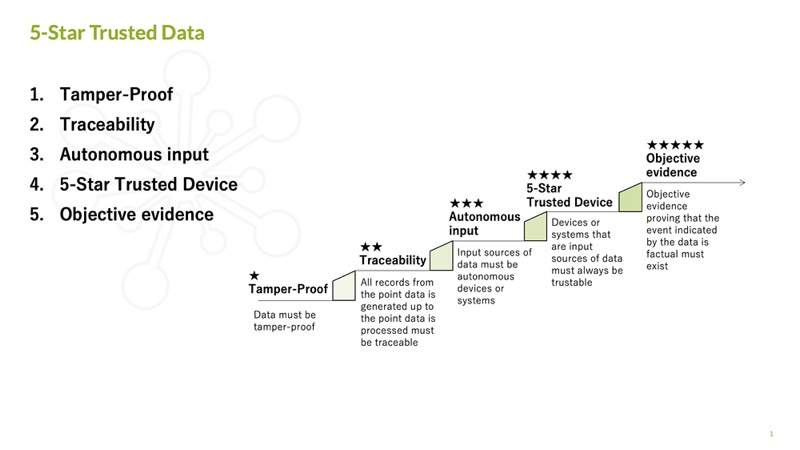 About Uhuru Corporation
Uhuru's corporate philosophy is to "Create a sustainable society with technology and out of the box thinking". We aspire to contribute to our clients and society by bringing added value with innovative products and services based on the Internet. Focusing on IoT business, we continue to make transformation happen at our clients with enebular®, our IoT orchestration service that allows unified management of edge devices and the cloud. Our teams of experts in consulting, engineering and creative production strive to create businesses at our clients by offering one-stop access to professional services in business strategy, technological support, and communication strategy.
URL:https://uhuru.co.jp/en
About LayerX Inc.
LayerX's mission is to "Make all economic activities digital". Centering on blockchain technology, LayerX is working on DX (digital transformation) in various industries including finance. LayerX aims to realize a society from which companies and individuals are able to benefit from by changing the way people trust and evaluate themselves and eliminating frictions that occur in economic activities.
URL:https://layerx.co.jp/
For more information
Fumiko Fukuda, Public Relations, Uhuru Corporation
TEL: +81-3-6895-1520 / FAX: +81-3-6895-1521
e-mail: contact@uhuru.jp
Takaya Ishiguro / Akihide Kimura, Public Relations, LayerX Inc.
e-mail: pr@layerx.co.jp